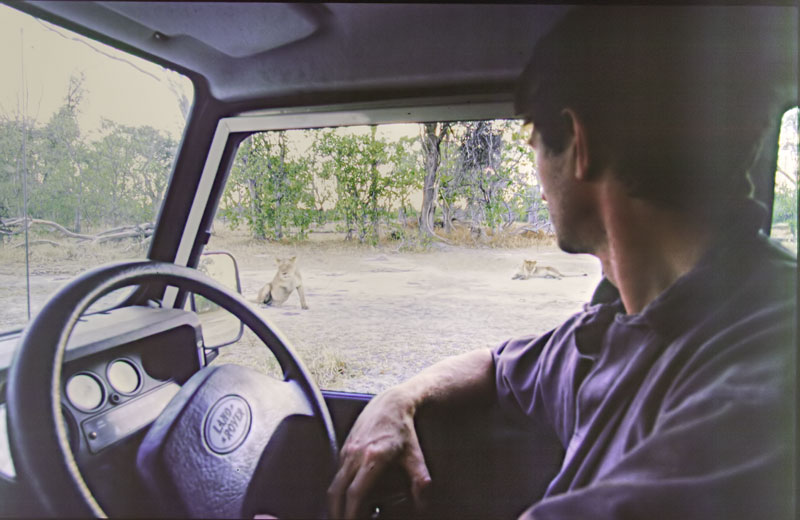 Why you should consider taking a self-drive safari
for your next visit to Africa and start to enjoy the
real rewards of the bush
When I first went to Africa in the early 1980's firstly working for an African Aid organisation and then as an overland driver to lead groups of young people wanting to explore the continent, there were very few options for those wanting to independently discover Africa for themselves. The only way to do this was to buy and equip a Land Rover and drive yourself there, having first taken a couple of years off work. This was obviously not possible or practical for most people, which troubled me for some time, until one day in 1992, I was driving across Chobe National Park with my now wife and the idea hit me; we were in one of the most beautiful parts of Africa in the ideal vehicle and exploring it for ourselves. It was as if we were following in the footsteps of the original explorers across a timeless landscape, unchanged for centuries and camping in the bush amongst incredible wildlife. Why not offer this experience to everyone as a ready to go package?
We based our company on that principle for the next 25 years, enabling people with full-time jobs and busy lives access to the best slice of an African overland journey. This was a better way to explore the bush, the insider's way and it enabled people to see the country as a local rather than be shown a sanitised version of it from the back of a game viewer.
Thus, armed with an itinerary and camp bookings, a superbly equipped vehicle and importantly a back-up network if they had a problem, we slowly started to change the way people went on safari.
We set up our first vehicle in 1992 and went back to London to sell the idea to an unsuspecting public, the self-drive safari was born.
However, to this day the most often asked question I still get asked upon explaining to people what I do and what I have devoted my professional life to is "is it safe"? And the answer is always the same, "it's as safe as you make it and common sense will see you through most situations in Africa!"
I can understand the newcomers trepidation when they have been fed a lifetimes worth of dubious news stories of the "Dark Continent", but that is all they are, stories about some countries in a continent that can amazingly fit the USA, Europe, Eastern Europe, India, Japan and China combined with its perimeter. Countries like Namibia have National Parks larger than some countries and a low population density, political stability and personal safety statistics better than many European countries. So please never use personal safety as a reason not to travel to Africa.
Since Jack Kerouac's popularised the road trip, it has been deeply engrained in the USA as a style of travelling that enabled rewarding and life changing travel experiences.
The progression from the road trip to the self-drive safari is seamless and no more hazardous a way of travelling than driving through the wilderness parks back home. In the same way that you would take care on any new journey, if you follow a few common-sense rules you will stay safe.
For some, they will want to do all the research and planning and make their own bookings to created what they believe is the best priced holiday however the amount of knowledge needed and time to research this type of journey can be daunting. Furthermore, the pitfalls of going it alone combined with the benefits of using a specialist self-drive tour operator will ensure peace of mind whilst you are on the road.
Many traditional safari tour operators don't understand why driving yourself works so well as a safari experience. They prefer to create journeys that are more controlling of their clients and offer similar variations on lodges and camps linked by light aircraft transfers, with a highly polished product and a high level of guiding. These types of safari can deliver wonderful game experiences especially if top-level guiding is found. However, to the more independent-minded it can be slightly frustrating and over-controlling.
The experienced operator who understands the concept will create a unique self drive journey, built around the level of experience of the client and challenge them as well as enthral them with a route that delivers safe and rewarding encounters with both the wildlife and the local population and gain an insight that stays with them and even changes their perceptions of the world.
So, what's the best way to start planning this type of journey? Firstly, do your research, there are a bewildering array of safari operators trying to lure you into their hands. Before you speak to the operators, try to get an idea of which country appeals most, the seasons, and your budget will have a bearing on your decision as well as the sort of journey you are looking for.
Some other basic early decisions include the levels of personal comfort, the amount of driving that you are happy with and how adventurous you are. At its most basic level, a self-drive safari is no more than touring between safari lodges with lavish comfort and guides to meet you on arrival and deliver the game experiences in open game viewers. At the other end of the scale, remote driving across a national park and camping at a special campsite with no one else but the animals for company, cooking supper over an open fire with that sundowner moment to finish the day. Nights spent sleeping either on a roof tent above the vehicle or securely tucked up in a ground tent.
The variations are endless and it's important to find the right safari for you. The best self-drive journey doesn't involve tagging along to other vehicles as part of a group being shepherded through the bush with all the decisions being made by a professional. This devalues the experience and without making your own decisions about the journey such as navigation or when to stop for lunch or to follow an unexpected wildlife sighting it will be a less rewarding journey.
The important thing is to use a safari outfitter that understands how and why a self-drive journey works. The easiest way to find out if they are knowledgeable enough is to ask them if they have driven themselves in Africa. If they have, they will soon be enthusiastically telling you about their last journey and will understand exactly what you are looking for. Do ensure that they have the team on the ground, to brief you on arrival, for example about the road conditions as these can change with the season and importantly the ground team will back you up if you have any problems. A good operator will not only ensure that the vehicles are in perfect condition and not some tired old hack, but also the equipment they supply will be appropriate and serviceable. They will also supply everything that is needed including all the bedding and camping equipment and will even provide the vehicle if asked.
The best companies will treat your safety and security of the highest importance and supply you with a satellite phone free of charge ensuring that there will never be an occasion when you are without back up. They will also have a flying doctor service to cover you for any eventuality.
Whilst piecing together the many elements of an expedition to Africa can seem daunting, with the right attitude and the support of good organisation your first self-driving experience in the bush will change the way that you go on safari forever. So, enjoy those special sundowner moments with the drifting smoke of your campfire in your own bush camp and waking at sunrise in the morning cool to the sound of doves and the guinea fowl pecking around your tent and look forward to another exciting day on the road.
Charles Norwood
selfdrivesafari.co.uk